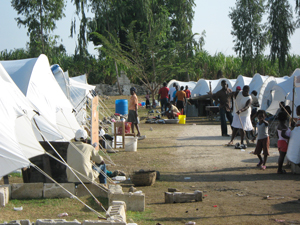 Located just outside of Léogâne, Mon P'tit Village is on 8 acres near the epicenter of the devastating earthquake on January 12, 2010.  The area was destroyed, with nearly 90% of buildings in ruins.
Hours after the earthquake, we had to support the staff displaced and left unemployed by this natural disaster. We also helped a community of 150 families to secure tents, water and food supplies.
We provided these families with a safe and secure environment while going through the trauma of such a natural disaster.
Our largely volunteer leadership took on the bulk of this work.